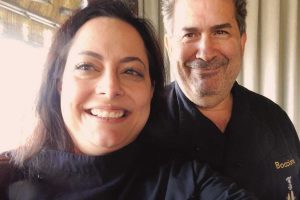 After many years of owning and operating Bonkerz Comedy Productions, Joe and I (Margaret) decided to branch out into something new.  We are Bonkerz for Food! 
How it all Started
Joe and I have been cooking and entertaining for years!  Joe started cooking at a young age.  He was the official "sauce stirrer" in his house.  When everyone else went to church on Sunday, he stayed home to stir the Sicilian Sugo for the weekly Pasta and Sunday Red Sauce Meal.  When his family came home, he went to church and picked up the bread on the way home at their neighborhood Italian bakery.  The family would be seated at the table, forks-in-hand, waiting for Joe to walk in the door so they could all start eating!
Fast forward to when Joe started Bonkerz Comedy Productions with his brothers.  They rented a big house that they lived in and the comedians would stay in when performing at the comedy club.  This was a cost saving measure, but a bit unorthodox.  To make the comedians feel more at ease, Joe would cook big family dinners featuring Pasta, Meatballs, Italian Sausage, Chicken Parmesan and more!  
By the time Joe and I got married, the big house was long gone.  We still hung out with the comedians sometimes at restaurants, but many nights still cooking at our home.  
Joe would cook delicious meals, but the store-bought desserts always seemed like an afterthought.  So, I started baking!  First, I started with sweets, but then I expanded my cooking into savory dishes and breads.
Why we are Bonkerz for Food
Many different experiences over the years continue to influence the food we like to cook!  We've cooked with lots of friends and family who have shared their favorite ethnic recipes.  Our European travel experiences have inspired us to cook different dishes that remind us of our trips.  Famous chefs have cooked stellar meals just for us.  Thus developing our love of multi-cultural cuisines.  We want to share these recipes with you!  We are Bonkerz for Food!