Pasta with Romanesco and Pancetta is a light pasta that is quick to toss together making it perfect for a quick weeknight meal. I combine penne pasta with Romanesco aka Roman Cauliflower and diced Pancetta. Top it with lots of Pecorino Romano cheese and you have a simple and tasty pasta dish!
What is Romanesco?
Romanesco is not something you find in the store everyday. It is a real treat and whenever I see it I buy some. If you can't find it, you can substitute broccoli or cauliflower. They are all part of the cruciferous veggie family. Cruciferous vegetables are low-calorie, and rich in folate, vitamins C, E, and K, and fiber.
Romanesco is similar in taste to broccoli, but slightly lighter in color and earthier in flavor. It looks like a head of cauliflower, but with spiky, cone-shaped florets. Romanesco is slightly crunchier than traditional cauliflower, but with a bit of a nutty flavor.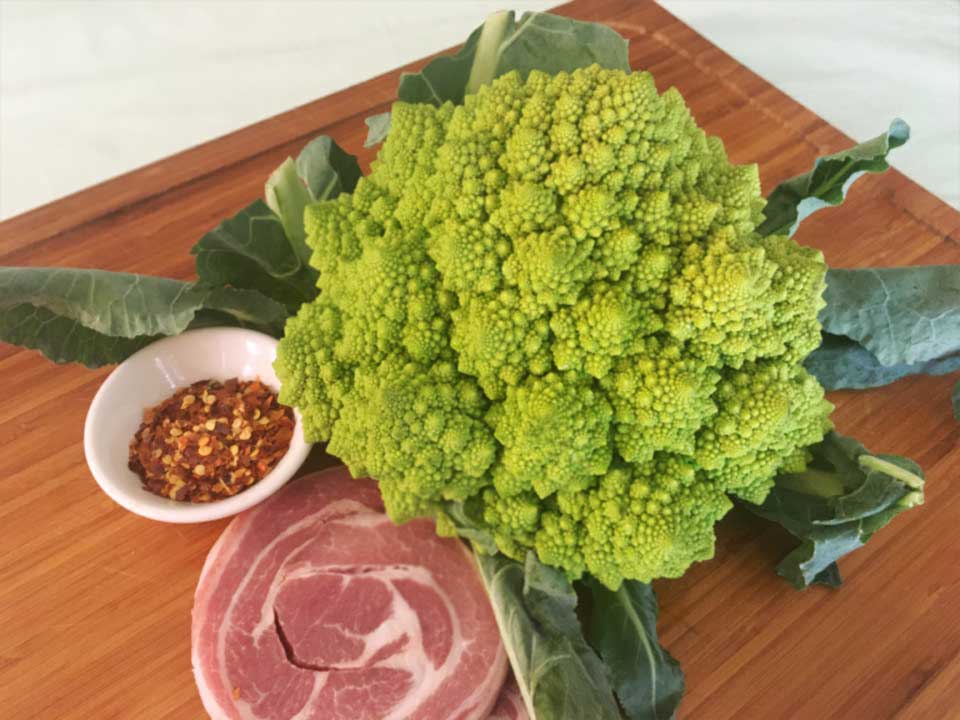 Pasta with Romanesco and Pancetta is a very comforting dish
Joe's Aunt Rosie made pasta with broccoli and pasta with cauliflower a lot. I think she made pasta any way you could possibly imagine it! This recipe reminds me of something she would have made, so I'm sure she would approve of it.
Each Pasta Sauce is meant to go with a particular Pasta Shape
Pasta is very versatile. You really can make a sauce with almost anything that you like, but you'll want to make sure to use the appropriately shaped pasta with each sauce. Penne pasta is perfect for this dish. It is sturdy enough to hold up to the pieces of Romanesco.
Italians are very particular about which sauce goes with which pasta shape. Once, we were in Italy and Joe asked for a particular sauce with a pasta shape that was different than how they were serving it. He was told, "No", in a very terse way. In America, we aren't as particular about the pasta shapes so if you like another shape like rotini or ziti, use that instead. Just remember, the sauce should be a condiment to the pasta. It should coat and compliment the pasta shape.
Enjoy Pasta with Romanesco and Pancetta the next time you are craving a healthy and comforting pasta dish!