Pasta with Sausage and Cabbage is a crowd pleaser! We've made it so many times I can't keep count anymore. Even our friends who claim that they "don't like cabbage", love it.
This dish is hearty, economical and easy to make. It consists of pasta, Italian sausage, savoy cabbage, leeks, chicken broth and fontina cheese. That's it! Even though this recipe only calls for one pound of pasta, the other ingredients bulk it up with delicious flavors. The combination of the cabbage with the leeks brings a wonderful balance of sweet and savory. The addition of the hot Italian sausage makes this dish a true flavor bomb. Lastly, finish it with some nutty fontina cheese that melts beautifully into the pasta. The best part is this entrée will easily serve six to eight people.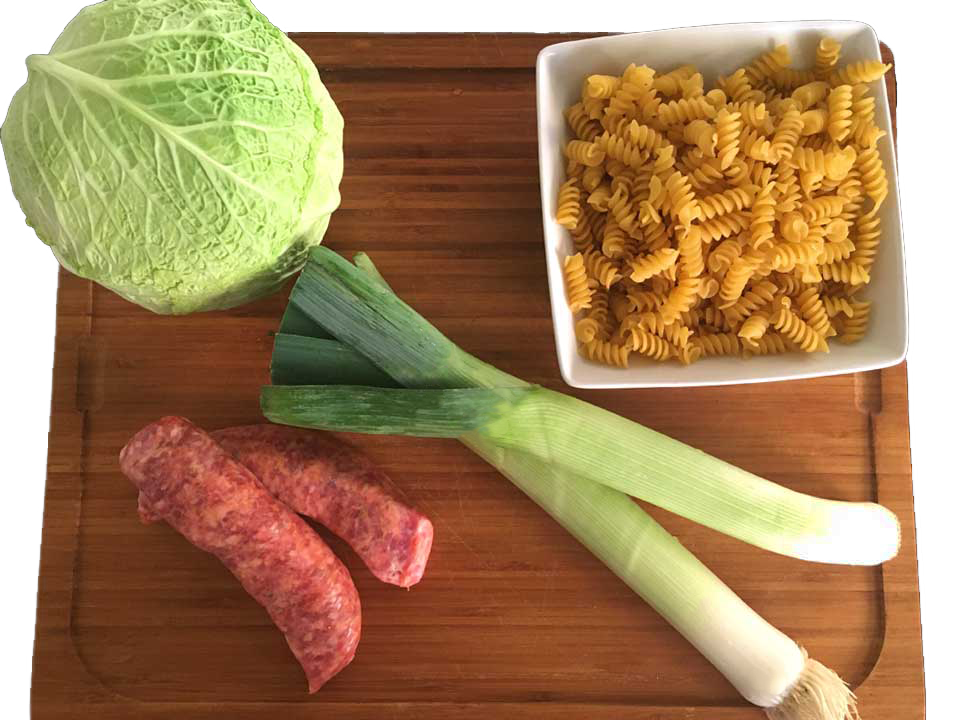 I like to use savoy cabbage in this dish. If you can't find it, green cabbage works well too. Savoy cabbage looks similar to green cabbage in shape, but the leaves are deep green and crinkly. I find its has a mild and earthy flavor, and the leaves are tender even when raw.
Pasta with Sausage and Cabbage is a hearty dish that everyone will enjoy!
This pasta can easily be served as a main dish. With the addition of a fresh salad and some bread, you have a great meal. A light dessert like anise biscotti or my almond cake make a nice end to a delicious meal.
When we are cooking a holiday meal we tend to include some type of pasta on the menu. Our family and friends will always default to pasta with Joe's big meatballs or a tomato sauce with pork ribs and sausage. Having said that they certainly won't complain when you serve up this pasta with sausage and cabbage instead.