Tuna and bean salad is a classic Italian dish.  I love to add the tuna and beans to a big bowl of bitter greens lettuces, making it feel more substantial.  I toss it with a  homemade dressing with lots of olives and capers, adding a nice pop of acidity.
There are many different kinds of bitter green lettuces to choose from such as escarole, endive, frisee and radicchio.  Today I used romaine lettuce for a sweeter flavor and endive, radicchio and Belgian endive to add a bitter note.  Escarole and frisee are also tasty bitter greens, but any fresh salad greens that you like will work.  
I use canned cannellini beans (sometimes called white kidney beans) in this salad as you can just give them a quick rinse and they're ready to use.  They have a nice creamy texture and are also very nutritious.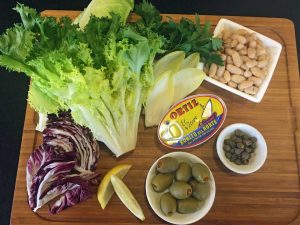 Good Quality Ingredients make all the Difference
Using a good Italian or Spanish canned tuna that's packed in olive oil puts this salad over the top!  It's completely different than the canned tuna in water that I grew up eating.  This tuna has a moist, silky texture and rich, meaty taste that is enhanced by being preserved with olive oil.  This type of tuna works well in salads, sandwiches and pastas, like our Pasta with Red Pepper Sauce.  
I use Sicilian olive oil for the salad dressing as it is bright and grassy in flavor.  I find that it stands up well to the all the bold flavors in this salad.
Serve this Tuna and Bean Salad for lunch, a light dinner or an appetizer
We had our friends, Rocco and Lindi, over for lunch the other day and since Lindi eats gluten free I was trying to think of something light to make, but not the same boring salad.  This tuna and bean salad came to mind.  We enjoyed it so much; we ate it all!
You can serve this tuna and bean salad for many occasions such as a nice lunch, a light dinner or even a cocktail party.  Pairing it with a cheese and salami plate as part of an array of appetizers to go along with a glass of wine makes the ideal gathering.