Middle Eastern Spiced Sloppy Joes are a fun twist on a classic American dish. Joe loves to make and eat Sloppy Joes. He makes big batches of them and divides them up to freeze into smaller portions. A few weeks ago, he made a big batch. When we tasted them, we realized he made a mistake which led to this new version.
Fun Twist on an American Classic
Joe reached for the chili powder, but accidentally grabbed our Moroccan spice mix instead. We ate the altered Sloppy Joes for lunch and they were really tasty. So, we decided to play with the recipe a little more and added the harissa paste and Urfa Biber pepper blend. The results were a success and have now become Middle Eastern Spiced Sloppy Joes.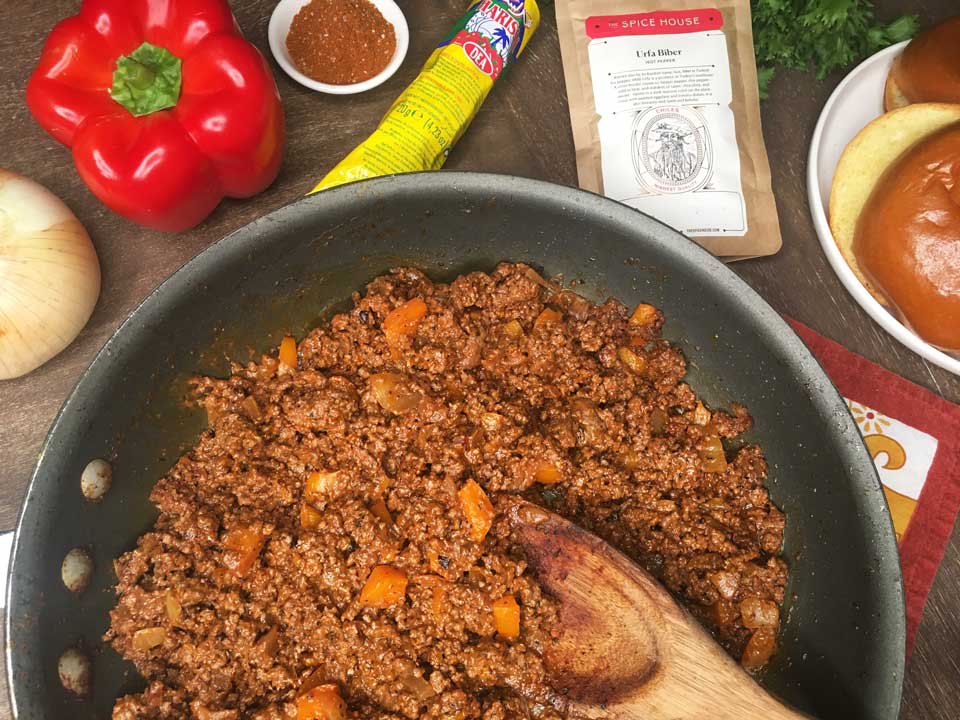 Harissa is a chile paste that is originally from Tunisia. I've heard it described as Middle Eastern ketchup, but I find it much more complex in flavor. It is typically made of dry red chiles, garlic, lemon, extra virgin olive oil and some warm spices such as cumin, coriander and caraway seeds. I like to buy it in a tube and squeeze a little into a dish, like you would tomato paste.
Urfa Biber is a smoky Turkish pepper that is mild in heat, with hints of raisin and chocolate. We purchased it online from Spice House. They have a wide variety of good quality spices that we really enjoy. Urfa Biber reminded me of ancho chili powder the first time I tasted it.
Middle Eastern Spiced Sloppy Joes can be made with Ground Beef, Lamb or Bison
For this recipe we used ground beef, however you can also use ground lamb (for even more middle eastern flavor) or bison (if you're looking for something leaner). The onions and the bell peppers provide some sweetness to counteract the spicy heat. Most of the ingredients that make up the sauce are common household pantry items. Ketchup, mustard and vinegar are part of almost every Sloppy Joe recipe.
Middle Eastern Spiced Sloppy Joes are a tasty twist on a classic that you're sure to enjoy!